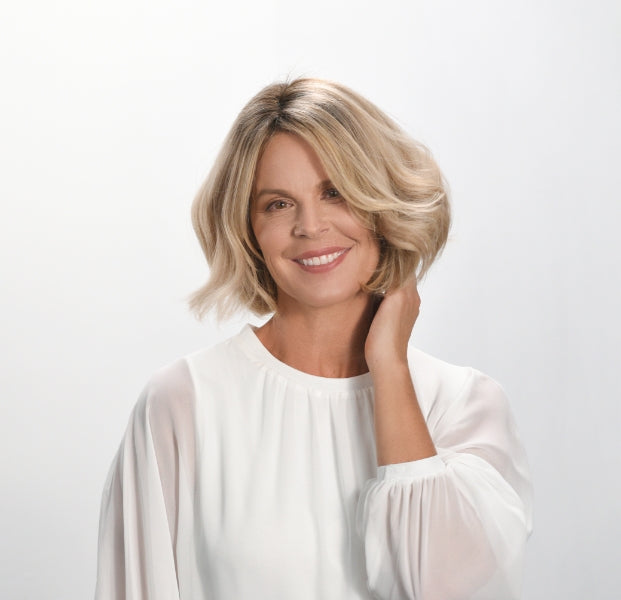 HAIRWEAR
SEMI-PERMANENT
HAIR ENHANCEMENT SOLUTIONS
Our hairwear pieces offer a semi-permanent, fully customizable hair enhancement solution for clients
experiencing more serve forms of hair loss.

This unique system features our easy to apply tape-in method using traditional hairpieces. Best of all, our
method does not requiring shaving and can be added complimentary to any hair extension service.
SHOP NOW
Benefits of Hair
Enhancement Solutions
WATCH HOW TO INSTALL
OUR SMART PART
1
Applications can last 3 - 6 weeks
2
Re-applications last up to 12 months of total wear
3
Easy to apply tape-in hair extension method and does not require shaving
4
Allows your client to grow their hair while wearing the piece
5
Salon clients can wash it, swim in it, workout and live in it just like they do with their own hair
Three Fully-Customizable Options
Smart Part
Lightweight design that is comfortable and easy to wear. Intended to be placed along part area on the top of the head. Hair length is approximately 16" long.
SHOP NOW
Wonderfill
Covers large areas of hair loss. Utilizes our strongest adhesive and premium hair quality. Hair is pulled through and secured between two adhesive bands.
SHOP NOW
Volumize Her
3" circular hair piece and 10" length hair. Made to cover small areas of hair loss. Perfect for the crown of the head.
SHOP NOW
Color Swatches
NATURALS
BLONDES
REDS
Hairwear
Transformations
Smart Part
Wonderfill
Volumize Her
Get Hairwear Certified
Learn from the Masters of Hairwear in our hands-on learning
experience. Increase your profit and give your clients
confidence with a safe and comfortable alternative without
shaving or bonding agents.
REGISTER TODAY
Frequently Asked Questions
If my salon client is actively shedding can they use hairwear?
If your client is actively shedding they can not use hairwear. They can begin to use hairwear one month after shedding has stopped.
Which hairwear piece is the right one for my client?
Depending on your client's area of hair loss you can decide which piece is the best option. If it is for a small area on the crown of the head the Volumize Her is the best option. For larger areas go with either a Smart Part or Wonderfill.
Can my salon client wash their hair or swim with hairwear?
Yes, your clients can wash their hair and swim with hairwear. It is important for your clients to wash their hair once a week when they are wearing hairwear for proper maintenance.
When should your clients come back for reapplication?
Salon clients should come back for reapplication anywhere from 3 - 4 weeks from the initial installation.
How can I get hairwear certified?
If you are interested in learning more and getting hairwear certified register on
The Academy Page
. hairtalk provides both in-person and virtual certifications.
What do I need to bring to the certification class?
Tripod or clamp stand to accommodate a mannequin, Cutting tools for use on Practice Hair, Pen for notes, Lunch or snack, All other training tools and supplies will be provided in your hairtalk certification kit.